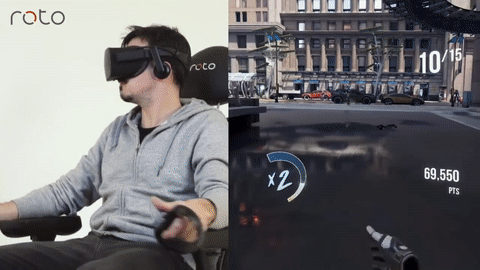 Thank you so much for your continued support and patience during what has been another testing period. This is our first official update since last April.
We write to you now, having resolved all outstanding technical problems, received further funding to launch, and now have a production schedule agreed with our factory in China.
We have taken this time to refine Roto, to make it easier and safer to use, plus added more functionality (and accessories).
Our website has been refreshed with new product details (and pictures) as well as updated pricing. The basic Roto VR chair is now $1,499 USD (from $999 USD) and includes the Double Rumble Pack, Control Box and Cable Magazine as standard. New accessories include the Roto VR Desktop and Baskets.
If you have already pre-ordered the Total Roto VR Package, you will also receive all of these accessories at no extra charge.
If you previously ordered the Total Roto VR Package, but have since cancelled your order, please don't worry, get in touch and we will offer you a discounted price should you wish to reorder. Please note, we will only offer a discount price until the 1st August.
Shipping is due to commence at the end of September, with deliveries before the end of October. Please don't contact us now for exact delivery dates - we will contact you before shipping to confirm your address details
We genuinely believe Roto is a game changer for the VR/AR industry. Please see our CEO's introduction and company vision.
Thank you once again for your continued support and patience. Your Roto is on its way (very soon).
Team Roto